For Christmas last year, my wife bought me a Seiko SKX-009 which I absolutely love. Even though I love it, I looked at a bunch of higher end Swiss watches but found that even though many of them look really great (I came pretty close to buying an Omega Seamaster Planet Ocean Chrono), but realized that when it came to the features I use on the SKX, the number of Swiss watches that actually fulfil them is very few. Like the Fortis Marine Master and Cosmonaut were the only two I could find - but while they fit what I want, I don't care so much for the styling. But the accuracy of a Swiss watch was appealing as the SKX had settled to losing 15 seconds a day, which isn't wonderful. But at least it was a very consistent 15 s/d.
So I thought about doing it myself, as the one watchmaker I had spoken to didn't seem all that keen on regulating a cheap watch, and probably not to the accuracy I would have tried for. But how to do it without it taking weeks and weeks fiddling with the so-called "lever from Hell" that the 7S26 movement has? While I could buy a standalone timegrapher, I didn't really want to spend the $180 or so for even a cheap one to do this.
I did some research, and some people had used Audacity, a program I was very familiar with to basically record the watch ticks for a minute and use that to regulate the watch. This was a definite improvement! It turned out that the mic on my laptop worked pretty well for this. But recording in six positions to get a sense of where things were, and that it took about a minute to do the recording, and then probably another three to analyze it to find the divergence, ugh.
Then I discovered an open source project called tg, short for timegrapher, which emulated the functionality in standalone timegraphers. As an aside, I thought that for such a device, it would normally have some kind of fancier name, but then realized that the fancier name would probably be horoscope (horometer?), and so the reasoning for the more mundane name made sense. In any case, I fired that up, and it worked better, but getting it to hear the ticking of my watch was somewhat of a problem using the laptop mic as when the laptop fan kicks on, it's hard for it to "hear" the watch.
But I persevered, and took a first swing at regulating the watch, shooting to move it to +15 whatever the original reading I took before regulating the watch. Only problem: when I did the initial reading, I didn't note the watch position. Ugh. But even with that error, I did manage to make it somewhat better: to only -12s/d. But that was still less than ideal.
Having learned from my error, I tried again the next evening, overshooting again and again (at one point I saw +108s/d D:), and finally I got to within a second or two of what I was shooting for, which was not 0 on tg's "scope", but 12s/d higher than whatever it reported for face down. It really doesn't take much motion of the regulating arm to throw things off! It probably took about a half hour of fiddling before I finally got it though.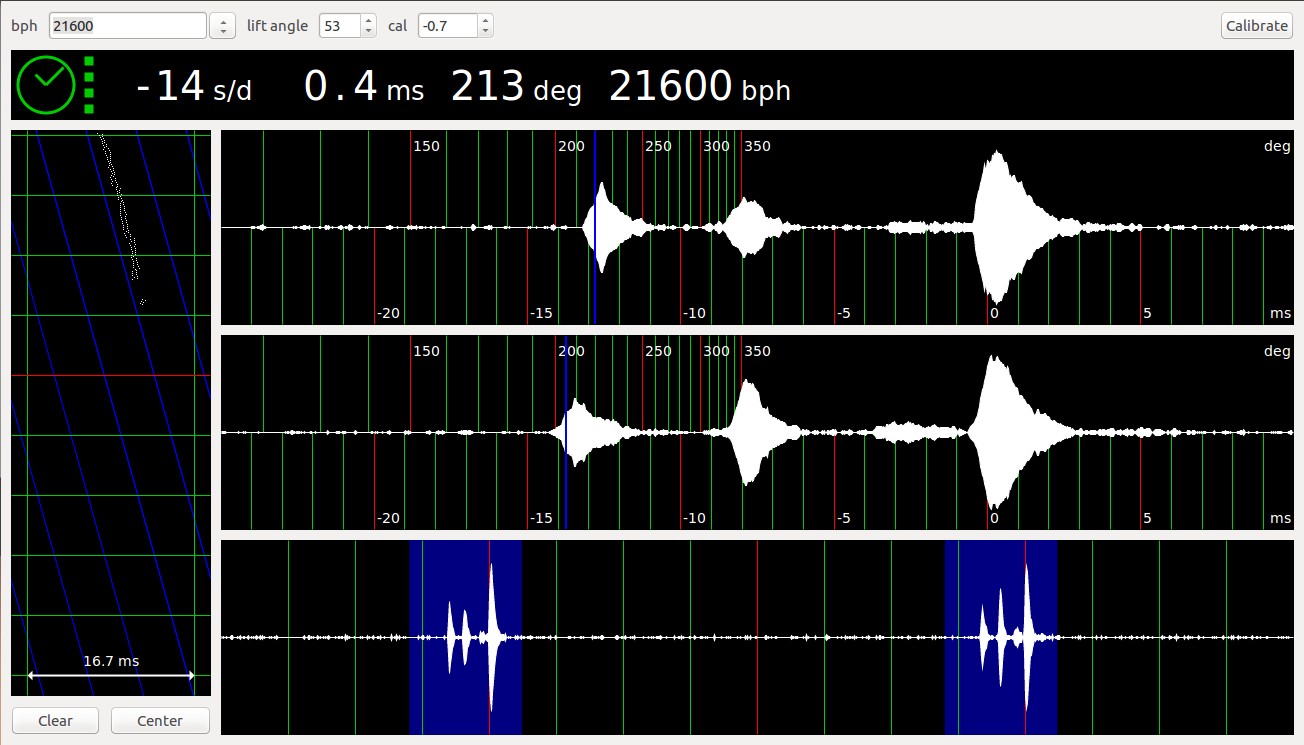 Over the next three hours before I went to bed, it was still spot-on (nice!). Next morning, it had lost a second, and through the rest of next day, it didn't lose any more! WHOOO!
There is the matter of amplitude that tg reports that I'm still not hot on as the highest amplitude I got was 245 degrees (upside down), and a lowest at 205 degrees (crown up), which is low (they should be >= 250 from what I read) but not sure if that's a real issue, or if it's an artifact either of tg itself or my laptop, and its sound card.
I did find something that worked better for a microphone: one of the cords for my Bose QC15's has a mic in it, and that worked really well – even better with the headphones disconnected! If only I had figured that out earlier!